Our Kaba Door Closer Repairs service is perfect for those who are having issues with their door closers.
Kaba doors is one of the most recognised brands in the sliding door and door closer industry. Their doors are built with quality parts. Kaba doors is now called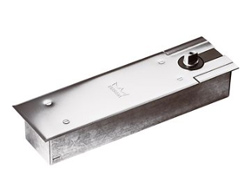 Dormakaba Australia.
But as with any mechanical part, they deteriorate over time and need to be replaced.
There are a number of doors closers made by Kaba including:
Transom door closers
In-floor door closers
Hydraulic door closers
Concealed door closers
Commercial door closers
Floor spring door closers
The most common Kaba door closer repair issues
Nothing is more annoying to both you and your customers when your automatic door closer is no longer working.
Here are the most common Kaba door closer issues we help our clients in Sydney resolve:
The door closer keeps slamming
The hydraulic oil doesn't seem to be full and has stopped working
Your Kaba door scrapes along the floor causing unsightly scratches
The closer is too weak for the weight of the door and needs an adjustment
You have a security issue as your door no longer lines up properly
Since 1992, our team have been repairing, replacing and adjusting Kaba door closers and have thousands of satisfied customers.
How to adjust your Kaba door closer
Time and time again we are told about people trying to repair or adjust their Kaba door closer on their own.
Sometimes this works but often it results is an issue much worse than what there was originally.
Our suggestion is if you need to know how to adjust your Kaba door closer that you give our team a call to clarify if the issue is permanent.
We'll ask you a couple of quick qualifying questions and get an understanding of the exact issue and what can be done.
In some cases, you may be able to adjust your Kabakaba door closer right there and then.
But you must understand that door closers are a complete unit. Each door closer unit contains a powerful spring and it if breaks out, it can do some serious damage.
Our recommendation for your Kaba door closer repairs
Our strongest recommendation is to give us a call and if it does need fixing, then within an hour or two we'll have taken out the old unit and replaced it with a brand new one.
You need to understand that once the door closer has lost its life, you cannot 'repair' it. Instead, it must be replaced.
The good news is, all new door closers we fix come with a manufacturers warranty. This gives you peace of mind to know your door and door closer will last for a long time to come.
We'll fix your Kaba door closer anywhere in Sydney
Our team is based in Sydney and we come to your office or workplace anywhere in Sydney.
No matter if you are in Sydney city, North Sydney, Bella Vista, Cronulla, Parramatta, Western Sydney, North Shore or the Eastern Suburbs, we can come to you.
Our process is simple:
We discuss the issue on the phone with you
We'll let you know the type of repair, adjustment or replacement that needs to be done
Together we lock in a convenient time
We turn up on-time and repair your door
You return back to normal business with a working door
Everyone in the office is happy 😉
We are often booked a week or two in advance, so give us a call today to discuss your door closer repair solution.
Feel free to call us for a free quote on 0401 349 821.